Paragrasp
Paragrasp is a browser extension for easier reading on the web.

When using Paragrasp, a highlight is added to a single paragraph of text. With a simple key press or movement of the mouse wheel, the highlight moves to the next paragraph and automatically scrolls the page. It's perfect for keeping track of your place, avoiding distractions, and retaining focus while reading long articles or blog posts.
Download
Version 1.49
Mozilla Firefox 10.0
show more

Version 1.49
Google Chrome
show more

Version 1.49
Mozilla Firefox 10.0
Google Chrome

Operation: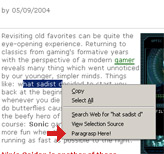 Control+down arrow to move to the next paragraph.
Control+up arrow to move to the previous paragraph.
Control+middle click on a paragraph to jump directly to it.
Control+Shift+J to jump to the paragraph the mouse is at. (Chrome only)
Control+Shift+C to clear the highlight.
Control+Shift+A for "Arrows only" mode (Firefox only).
Mouse scroll wheel to move to the next and previous paragraphs.
Paragrasp has been tested on most major blogging and news sites, including nytimes, yahoo, blogspot, blogger, and many more. I'm always looking to improve on the paragraph detection algorithm. If you find a site that Paragrasp does not work work correctly on, please feel free to shoot me an e-mail.
Developers
Paragrasp's source is available under the GPL license.